ATTN Large Busts Women: See These High Impact Sports Bras for Large Breasts Stay in Place During Workoutst
Which is the best sports bra for large breasts? In this guide, we present our top picks.
There are two main categories of sports bras: encapsulation and compression.
Encapsulation Bras
These bras look like the standard-use bras that encapsulate each boob with two cups. These bras help to keep the breasts stable in all directions.
Compression Bras
These undergarments do not separate or hold each boob with two cups. The bras provide support by compressing the breasts against the chest.
Benefits of Wearing Sports Bras
There are various reasons why you should wear sports bras. These include:
Temperature Control
A good sports bra will help to keep your body at the right temperature. When exercising, the bra will keep your skin cool and dry.
Keep Your Valuables Safe
Some of the best sports bras for women with large melons have small pockets, where you can store items you may carry when exercising (e.g., your smartphone, gym membership card, or keys).
Less Sweating
The top-rated sports bras will prevent you from getting soaked in sweat when exercising.
Comfort
Wearing a sports bra that fits correctly will keep you comfortable.
Exercising Becomes Easier
Wearing the right sports bra will make it easier for you to exercise. The bra will prevent the melons from bouncing as you workout. Apart from this, you will avoid stares from pervy people at the gym.
Less Bounce
Sports bras help to prevent the breasts from bouncing. Whether you have large, medium, or small breasts, you should always wear a bra to reduce the bounce and potential tissue damage when you are exercising.
Best High Impact Sports Bras for Big Bust
Before we get into this review of sports bras for large breasts, let's look at a comparison table.
If you have a big bust, one of the challenges of exercising is keeping the breasts in place during a workout. Many times, you may have to stop your workouts to adjust the bra to keep the melons in place. Therefore, you may not enjoy a workout as you would like.
To avoid the inconvenience of the girls always getting out of place during a workout, you need a good sports bra. The bra should be sturdy enough to keep the breasts in place when you are jumping, jogging or running. Apart from being sturdy, the bra should be comfortable.
In this best bras for sports review, you'll get the right undergarment that will keep you comfortable when working out.
Best Sports Bras for Large Breasts (Reviews)
#1.  Panache Women's Underwire Sports Bra
The Panache Underwear is an encapsulation sports bra that provides excellent support. The bra keeps the melons in place by holding them in the cups rather than squishing them against your chest.
This plus size sports bra is excellent for all types of workouts, including running. And with the "Racer back" option, you will have the freedom to move when jogging or running.
The Panache bra for large breasts offers an excellent fit, just like a normal bra. The material is comfortable to the skin and has great moisture-wicking properties. The overall design also ensures that the melons do not show under your clothes. You may even not need to wear another layer on top, thanks to the thick band and full coverage cups.
The Panache sports bra is made from 70 percent polyester and is machine-washable. The bra does not lose shape, even after repeated washing. This sports bra has a front mesh panel and closes with a hook-and-eye at the back. Therefore, you will not have to worry about bindings or wires during your workout.
Another plus for the Panache exercise bra is that it comes in different colors and sizes. Before you order the bra, check the size chart to determine your correct sizing. In particular, check the cup size and circumference.
Editor's Note:
The Panache offers excellent support, which easily makes it the best sports bra for running with larger breasts. The undergarment is machine washable and, hence, easy to take care of. The bra is comfortable and comes in different styles, which makes it functional.
The only issue we would like to point out is that the bra is a little expensive (check current price).
Still, the Panache Sports Bra is a great bra for women with fuller busts. The comfortable fabric and excellent design ensure that your melons do not bounce when you are working out.
Check Price on Amazon | Bare Necessities | HerRoom
#2.  Glamorise Women's No Bounce Sports Bra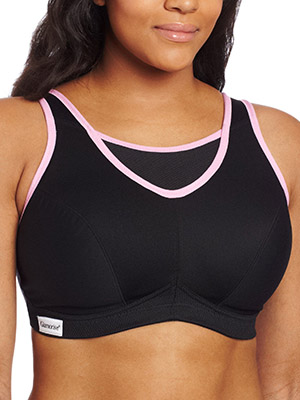 Another undergarment to make it on our list of the best bras for large women is the Glamorise Women's Sports Bra. This high support sports bra comes at a lower price than the Panache but is still a great fit, is made of quality materials, and has an excellent design.
There are five types of Glamorise sports bras that you can choose:
You can see the difference between the bras on this page.
Some of the features of the Glamorise sports bras include:
Available in four colors: White, Café, Malibu blue, and Black/Pink
Is machine washable
The shoulder straps are adjustable
The fabric has moisture-wicking property that ensures your skin is dry and cool
On Amazon, the Glamorise bra is highly rated as one of the best sports bras for bigger chests on the market.
Check Price on Amazon |Bare Necessities | HerRoom
#3.  Champion Women's Absolute Workout Sports Bra
The Champion Women's Sports Bra is another sports bra for large breasts that you should check. This lightweight, compression sports bra is flexible and will allow you to move easily as you are jumping or stretching.
The bra offers medium support and does not itch on the back when rubbing against your skin. It is comfortable, easy to wear and stylish. You can wash the bra in a washing machine.
The inside liner and body of the Champion Sports Bra for heavy breasts is made of 87 percent polyester and 13 percent spandex. This combination of material is breathable, which is important if you will be wearing it when exercising.
The Champion sports bra for women comes in different colors and is affordable. The lightweight material prevents you from sweating a lot during workouts and the medium support makes it excellent for running. Wearing and removing the bra is also easy.
Like is the case with buying any bra, make sure you check the sizing chart to find the right fit size.
Check Price on Amazon | Bare Necessities | HerRoom
#4.  Under Armor Women's Mid Sports Bra
The Under Armour Women's Sports Bra comes in 20 different colors and has excellent sweat-wicking properties.
The sports bar offers mid-impact support, which allows you to move easily during workouts. The undergarment is made from 90 percent polyester and 10 percent Elastane that ensure easy movement. The bra has a double-layer HeatGear fabric that feels great next to the skin.
The Under Armour sports bra comes in multiple colors. Therefore, you will find a few that match your personality. The moisture-wicking property prevents you from soaking in sweat when working out.
The sports bra for large chests does not fit too tightly. You can easily move your arms when wearing it. However, make sure you get the right sizing to avoid fitting problems.
Check Price on Amazon| HerRoom
#5.  Wacoal Women's Sports Bra
The Wacoal sports bra is not only well-fitting but also breathable. This bra is made from 100 percent nylon and features adjustable straps that keep it snugly in place, even when you are moving around or exercising. The bra stays in place, thanks to its comfortable hook-and-eye closure on the back.
The Wacoal bra has an underwire for some extra support. The bra comes in different colors (blue, nude, black, platinum and fuchsia, and peacoat and jade line) as well as sizes. The bra size reaches H and is, therefore, suitable for women with large breasts.
The Wacoal sports bra can be tightened or loosened to achieve the perfect fit, thanks to the adjustable shoulder straps. The bra is not padded. Therefore, there is no extra material to make it bulk. The hook-and-eye closure on the back makes it easy to fasten the bra. Finally, its underwire provides just the right amount of extra support.
This bra is, however, not machine-washable.
Check Price on Amazon |Bare Necessities | HerRoom
#6.  Enell High Impact Sports Bra
The Enell Sports Bra is designed for active full-figured women. Whether you take part in aerobics or engage in activities such as running, basketball, or volleyball, this sports bra is for you. The bra is comfortable and offers excellent support.
The Enell sports bra for large breasts has a high neck that ensures it stays in place all through the day, while lifting the breasts. The bra wears well and its wide straps prevent the shoulders from tiring due to carrying your full bust.
The Enell bra features a hook-and-eye closure. Therefore, you can easily wear it or take it off. Its back is a full design and a cross strap that keeps it snug. You can wear this sports bra with any type of top.
The sports bra is made from Naturexx fabric (i.e. 90 percent nylon and 10 percent Lycra). This blend of materials ensures that the bra is sturdy, fits well, and keeps you cool during workouts. The material also does not stick to other clothes you may be wearing.
The Enell sports bra for full figured women comes in different colors. It is soft and comfortable, has great sweat-wicking properties and fits well. However, since the bra is designed to keep the each boob snug, make sure you check the fitting guide to get the right fitting garment.
Check Price on Amazon | Bare Necessities |HerRoom
#7.  Anita Women's Momentum Sport Bra
Another sports bra for women with large melons that you should check is Anita Sports Bra. The bra comes in a wide range of sizes and fits securely.
Some of the features of the bra include:
Has a great fit. 80 percent of women that bought it on Amazon rate it highly for its great fit.
Its straps are adjustable
Prevents bouncing of the melons
Comfortable to wear
Does not lose shape when hand-washed
The features and performance of Anita Momentum make it one of the top rated sports bras for full figured women.
Check Price on Amazon| Bare Necessities | HerRoom
Best Sports Bras for Large Breasts: Editor's Verdict
From our research, the best sports bra for large breasts is the Panache Sports Bra. This underwear clothing is specially designed for women with big melons. The bra reduces bounce by up to 83 percent and provides maximum support, even when you are doing high-intensity workouts. We love how the bra feels comfortable, no matter what exercises you are doing.
The Panache Sports Bra is made of a lightweight microfiber fabric that prevents sweat from piling on your body but at the same time, keeps the skin from getting dry. This women's sports bra comes in 8 options
Our second best sports bra for women with big melons is the Glamorise No Bounce Bra. This bra is cheaper than the Panache Sports Bra, comes in four colors and is highly rated on Amazon.
Frequently Asked Questions
How do I fit a bra if my breasts are of different sizes?
Most women have breasts of different sizes. When looking to buy a bra, simply measure the size of the larger breast. Go for a bra that will fit the larger breast.
What does encapsulation and compression mean?
The best sports bras are stretchable, which is important in ensuring you are comfortable as you work out. Encapsulation means that a bra will surround and support each of your breasts to give it shape. On the other hand, compression means that a bra will press against your chest to support your breasts.
Women with large breasts should choose bras that have both encapsulation and compression properties.
What is the difference between low-impact, medium-impact, and high-impact bras?
Impact determines the amount of bounce your breasts will experience when you are working out. High impact refers to activities that are more vigorous, which lead to higher amount of bounce. Examples of such activities include running and aerobics.
Low-impact refers to exercises that lead to little bounce, for example, yoga.
What are the benefits of wearing an underwire sports bra?
An underwire provides additional support to the breast in the bra cup by holding it in place. We have previously written about the best underwire sports bra for women here.
Adjustable, racerback, and convertible; which is the best bra for women with large breasts?
An adjustable strap bra is specially designed to fit women with larger breasts. On the other hand, convertible strap bras can be adjusted to fit women with bras of any size.
Racerback bras cannot be adjusted.
Do I need a sports bra if I am not working out?
Sports bras are comfortable and support the breasts, whether or not you are working out.
My breasts move around and are painful when I work out. What should I do?
You can ease some pain on your breasts by wearing a good encapsulation bra. A well-fitting bra will provide good support and prevent the breasts from moving.
How long should I keep my sports bra?
Generally, the more you wear a sports bra, the faster you will have to replace it. As a general rule of thumb, you should replace your sports bra from 6 to 8 months if you wear it two to three times a week.
How much should I spend on a good quality sports bra?
Sports bra prices vary from $25 to over $100. The prices vary depending on the fit, quality, and type of the bra.
How can I determine the right size of sports bra to buy?
To determine the right size of bra to wear, you will have to measure your breasts. Most sports bras have a sizing chart that you can check before buying.