Bra Fitter's Guide: How to Measure Bra Size for Sagging Breasts
If you have sagging breasts, it's critical to measure your cup size properly to find a fitting bra. You can get measured by a bra fitter or, if you are a DIY enthusiast, measure yourself at home. Wondering how to measure bra size for sagging breasts? This guide is for you.
Our bodies change as we age. The changes in the body can change the size, shape and appearance of the breasts. For instance, the breast muscles weaken due to ageing and, as a result, they are unable to make the breast stay upright. This is why the breasts tend to sag as we get older.
However, apart from ageing, there are other different factors that can make the breasts to sag. These include pregnancy, significant weight gain or loss, and an increase in the breast size.
If you have sagging breasts, it is important to choose a bra that is both comfortable and supportive. The right bra can help to prevent the breasts from sagging.
However, remember that the bra will only support the breasts from sagging further. It won't reverse the sagging issue.
Your breast shape should help you to know the type of bra to wear as well as the size.
To get a properly-fitting bra, you should measure your breasts accurately. A well-fitting bra will be both supportive and comfortable on the body.
Moreover, knowing your cup size will help you save time when shopping for bras.
What is Your Breast Shape?
It is important to know your breast shape before buying a bra. The shape of your breasts may be determined by different factors, including genetics, race, weight, and age. All these factors contribute to the uniqueness of everyone's breasts.
It's not difficult to know the shape of your breasts.
Here is a quick guide:
Stand in front of a mirror while braless and check the shape of the breasts. Paint a picture of the breasts mentally, or even draw it on a piece of paper. You should notice that the breasts take a particular shape.
After the exercise, head over here to know your breast shape.
Types of Breast Shapes
Standard Breast Shape
With standard breast shape, fat is evenly distributed around the bust. The best bras for this breast shape are minimizers, seamed, moulded, and semi bras.
Swooping Breasts
With this breast shape, the nipple points upwards. Moreover, the breast is fuller at the bottom (FOB).
This breast shape is common among breastfeeding women and those that have lost a lot of weight.
The best bras for swooping breasts are demi cup bras.
Saggy Breasts
Saggy breasts typically point downwards.
The breasts can sag due to different reasons, including menopause, wearing an ill-fitting bra, enlargement due to pregnancy, etc.
If you have saggy breasts and wear an ill-fitting bra, the bra can stretch and break its elasticity.
NOTE: Wearing a fitting bra doesn't necessarily fix sagging breasts. However, it helps to prevent them from sagging further.
To fully support saggy breasts, go for soft cup bras with seams and underwire.
Are You Wearing the Right Size Bra?
Before we go to the steps for measuring your bra size, let's see whether you have the right bra. Follow this guide:
Insert two fingers under the bra's band. If your fingers comfortably slip through the band, then it means the bra is big.
Your bra should be supportive, regardless of your size. Wearing a bra with a bigger band size tends to contribute to the sagging. If your two fingers comfortably slipped through the band, this means the bra is big. Therefore, you will need to go up a cup size and down a band size.
If you are not confident of measuring yourself, consider getting fitted by a professional at the local lingerie store.
However, measuring yourself is not really difficult. Here is an accurate way of measuring your bra size.
How to Measure Bra Size for Sagging Breasts
Measuring your bra size is all about knowing your under bust measurement and your overbust measurement.
For this exercise, you will need a tape measure. Follow the steps below:
Step 1: Wear a Non-Padded Underwire Bra
Put on your best fitting, non-padded underwire bra. You want an underwire bra to support the breasts and keep them upright when measuring them.
Moreover, you want a non-padded bra so that you get an accurate measurement. If you wear a padded bra, your measurements will be skewed upwards because of the padding.
Step 2: Measure Your Band Size
Next, you have to measure the band size.
Take the tape measure and wrap it around your back right under your bust (think ribcage level). Hold the tape measure firmly using both sides, ensuring it is neither too tight nor loose. Ensure the tape measure lies flat on the skin and goes across the back.
Where the tape measure meets is your band size.
From the image above, the band size is 34.
If you have an odd number, round it up. For example, if you find that you are 40.5 inches, round it up to 41.
On the same note, if you have a 38 or below inch level, add 2. For example, in our case, the size is 34 inches. We'll add 2 inches so that it becomes 36 inches.
Step 3: Measure Your Bust Size
Slide the tape to the fullest part of the bust. The tape should be snug but not tight.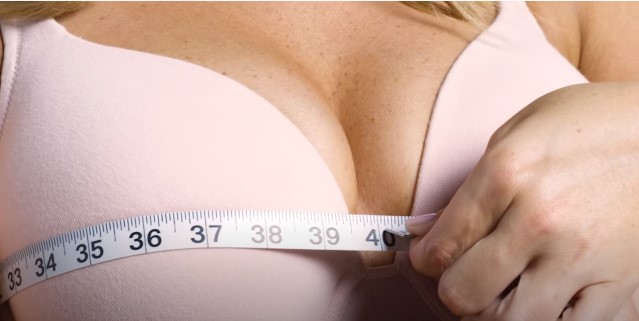 If you get an odd number, round it up.
From the image above, the bust size is 40 inches.
Step 3: Cup Size
The cup size is the difference between the bust size and the band size.
In our case, the bust size (40) – band size (36) = 4 inches
After getting your results, refer to the following chart for your bra size:
| Inches | Cup Size |
| --- | --- |
| Less than 1 inch | AA |
| 1 inch | A |
| 2 inches | B |
| 3 inches | C |
| 4 inches | D |
| 5 inches | DD/E |
| 6 inches | DDD/F |
| 7 inches | G |
| 8 inches | H |
| 9 inches | I |
| 10 inches | J |
| 11 inches | K |
| 12 inches | L |
| 13 inches | M |
| 14 inches | N |
In our case, the bust size was 40 and the band size was 36. Therefore, the difference is 4 inches.
When you look at the chart above, 4 inches is a D cup. Therefore, the size is 36D.
Watch the video below to learn how to measure bra size for sagging breasts:
Bra Fitting Tips
Now that you know how to measure your bra size, let's give you some few tips for finding a fitting bra.
i) The band offers majority of the support to the breasts. Therefore, get the correct underbust measurement.
ii) Bras with adjustable straps also allow you to enhance the support by adjusting the straps.
iii) Don't use a dryer to clean your bras. The heat from the dryer will break the fabric's elasticity.
iv) Bras can only last up to nine months. After this, you'll have to dispose them and get new ones. To get the most out of your bra, ensure you clean them correctly and let them rest for some time. Don't wear the same bra every day. This will make it wear off quicker than it should.
v) If you raise your hand and the back of the bra rides up, this means the band is large. Therefore, you'll need to go a size down.
Conclusion
Bras provide the support breasts need. However, you need to get a bra that fits perfectly well. The bra should be comfortable and offer adequate support to the girls.
Now you know how to measure a bra for sagging breasts.
RELATED GUIDES: How to Measure Bra Size with Measuring Tape | How to Measure Bra Size for Sagging Breasts | How to Measure Your Bra Size | How to Measure Bra Band Size | How to Measure a Teenager for a Bra | How to Measure the Bust Size