Is 34A Bra Size Big or Small? Which Are the Best Bras for 32A?
If you wear 34A bra size, you are considered to have small breasts. The 'A' cup refers to small breasts, and the band measurement is also smaller than that of the average breast size.
34A Bra Size
While 34A is small, it is still larger than 28A and 30A.
Generally, cup sizes may have the same alphabet but this does not mean they are the same. As the band size increases, so does the cup size.  Therefore, 34A is larger than both 28A and 30A but smaller than 36A and 38A.
While the band size of the A cups may be different, the cup size is usually almost the same.  Therefore, if you are wearing 34A bra size, this means you have a larger bone structure than someone who wears 28A.
If you have a small frame, 34A bra size may look a little larger on you. However, in reality, the breast themselves are quite small.
How Do 34A Breasts Appear?
Generally, 34A breasts look like a small bump. There are various factors that determine your breast size, including your body shape, genetics, how the breasts store fat, and so on.
If you are larger on the lower half than the upper half, then your hips will overshadow the size of the breasts. As a result, the breast will look quite small.
On the other hand, if you have a flat stomach, your 34A breasts are likely to be more visible.
For 'apple' shaped women, where the body has more fat around the stomach area, the breasts are likely to blend with the stomach. Therefore, they will appear smaller.
Find out more about breast shapes here
On the other hand, if you have a small frame and a slender figure, the breasts will appear noticeably larger.
34A Natural Breasts and Implants
If your breast size is 34A, then the breasts are not likely to sag. Rather, at this size, they tend to be perky.
Since 34A breast size is quite small, some women with the small breasts opt to have breast augmentation to get a fuller bust.
Without any surgery or augmentation, 34A breasts lie flat close to the chest. This is why some women  with these small breasts opt for implants.
If you have a 'pear' shaped body, you may wish to get breast implants to balance the lower width of your half body.  If you want breast implants, you should size up within two cup sizes so that the breasts look natural.  This means you can size up to 34B or 34C.
Remember, if you have 34A breasts, your body does not have a lot of fat. Therefore, do not overdo the implant size if you want to achieve a naturally-looking bust.
Getting smaller implants is beneficial and reduces the risks of your body undergoing a lot of trauma. Examples of issues that can arise as a result of  getting breast implants that are too large include extrusion (the skin breaks down and the implants protrude through it), infection, delayed healing of the wound, among others.
Women with natural small breasts have tighter muscle tissue. As a result, they are more at risk of undergoing various traumas if they choose to get oversized implants.
How to Make 34A Breasts More Prominent
34A breasts look different depending on a woman's body shape, the type of bra she is wearing, and clothing preferences. If you want to achieve a fuller bust naturally, you should wear a push up bra with a fitting T-shirt.
34A breasts are also more visible if you have a flat stomach. If there is a lot of weight in your stomach area, the flesh will overshadow the size of the breasts, making them almost invisible. For the best projection of 34A breasts, you should wear a push up bra.
One of the best things about having 34A breasts is that you can wear almost everything that a larger bust woman cannot. For example, you can easily wear tops and dresses with low cuts on the chest.
Learn More About Each Size
Best 34A Bras
Check out these comfortable 34A bras that you should add in your closet
34A Soft Cup Bra: Newia Soft Cup Bra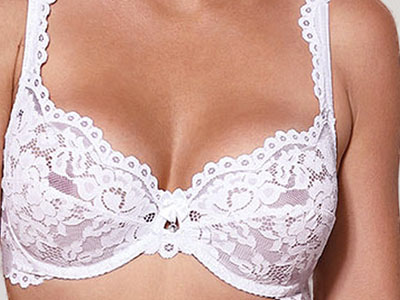 34A Push Up Bra: Florence Push Up Bra
34A Bridal Bra: Bliss Bra
34A Bralette: Chantelle Soft Stretch Bralette
34A Sports Bra: Anita Active Mid-Impact Wirefree Sports Bra
34A Nursing Bras: Bravado Designs Body Silk Wirefree Nursing Bra
See more 34A bras on our store.