So, we know that there is a 30A bra size. But is there a 28A bra size? And if it's there, how big are the breasts? Read on to find out.
Is 28A a bra size?
Yes, there is a 28A bra size. In fact, 28A is not the smallest bra size. A 28A bra size means that your underbust measures 24-26 inches while the overbust measures 28-29 inches.
What is the smallest bra size?
An AAA is the smallest bra size. However, at most stores, you will find AA bras rather than AAA cups. An AA cup measurement means the difference between the size of the fullest part of the breast and the underbust is less than one inch.
Check our article of the smallest bra size for more information.
Is 30A the smallest bra size?
No.
A 30A is not the smallest bra size. There are smaller bra sizes names AAA. 30A bra size is one of the smallest bra sizes. A 30A cup size means that the band size is 30 inches and the bust size is 31 inches. The difference between the bust and band is 1 inch.
What bra size is normal for a 16 year old?
There is no "normal bra size" for a 16 year old. Each person's body is different and breast tissues develop based on different things, including genetics, types of food you eat, and so on. Therefore, do not feel pressured to be of a specific bra size when you are 16. Your breasts are still growing and their current size is perfect.
What is 28A Bra Size?
A 28A bra size is a small cup size, as is the case with nearly all A cup bras. Both the bra's cup and band are small.
However, while 28A is small, it is still larger than other A bras that have a smaller number, for example, a 26A. Bra cup sizes are denoted by number. Basically, the higher the number, the larger the bra. Therefore, a 28A is bigger than a 26A.
If you wear a 28A bra, this means you have a larger bone structure than a person that wears a AAA cup size bra. However, 28A breasts are still considered small.
How Do 28A Breasts Look Like?
Generally, 28A breasts are larger than AAA cups and A cups of band size 28 and smaller. The breasts can look are little perky but are generally classified as small. The way 28A breasts look like may be determined by different factors, such as your body shape, how fat is stored in your body, genetics, among others.
The breasts look smaller on women that have a larger lower half than the upper part, since the hips overshadow them. On the other hand, the breasts appear larger on the side on women with flatter stomachs.
See the image below to get an idea of how 28A breasts look like
For women that have an 'apple' shape, i.e., more mass around the stomach, the breasts are not really noticeable and hence may not even be seen at all. On the other hand, the breasts appear larger on women with a flat stomach and slender figure.
28A Natural Breasts and Implants
28A breasts are quite small. Therefore, women with these breasts do not have to worry about sagging. The breasts look perky.
Since the breasts are small, some women prefer to get breast augmentation surgery to achieve a fuller bust. Other prefer to go for natural remedies, such as eating foods that increase breast size. Whether or not you opt for surgery, it is important to wear fitting bras.
Pear-shaped women can opt for breast implants to balance the width of the lower half of the body. When going for surgery, it is important to increase the breasts within two cup sizes of your original size. This means that you can increase 28A breasts to 30A or 32 for them to look natural.
You can also opt for natural breast enhancement methods, such as using creams or pills. For example, most 28A cup women  have successfully increased their breast size by using Total Curve breast enlargement cream.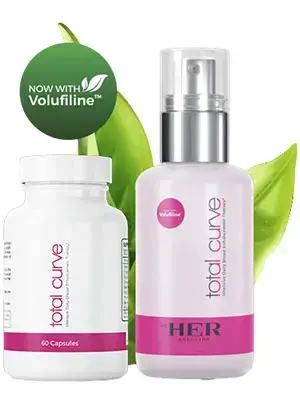 AVAILABLE ON TOTALCURVE
You can read more about the natural breast enhancement solution on this article: TotalCurve Review.
If you are into pills, we recommend you get  Breast Actives.
If you have 28A breasts, this means that you have a slender figure and your body does not have a lot of fat. Therefore, if you go more than two cup sizes with the implants, the breasts will not look natural.
How to Make 28A Breasts More Prominent
The way 28A breasts appear vary depending on the clothes you wear, type of bra, and shape of your body. If you want the breasts to appear more prominent, you should wear a push up bra for small breasts, with a fitting shirt. On the other hand, wearing oversized t-shirts and going braless will not help in making the breasts more prominent.
28A breasts are also visible among women with a flat stomach. On the other hand, the breasts are not likely to be seen on women with more weight around the stomach area.
Therefore, the best way of making 28A is to get a flat stomach and wear a push up bra.
Still, having 28Abreasts is beneficial in some ways. For example, you can wear dresses and tops with low cut fronts, which plus size women will struggle to look good in.
Best 28A Bras
1. The Little Bra Company Sascha Petite Strapless Bra
AVAILABLE ON AMAZON
2. ToBeInStyle Women's Assorted Bras
AVAILABLE ON AMAZON
3. Wingslove Women's Shelf Bra
AVAILABLE ON AMAZON
4. Deyllo Mesh Unlined Bralette
AVAILABLE ON AMAZON
5. The Little Bra Company Yvonne Lace Detail T-Shirt Bra
AVAILABLE ON AMAZON
Learn More About Each Size