B Cup Size: How Big are B Cup Breasts?
What Size Is Considered B Cup Breasts?
In the recent years, 34B was considered as the average breast size in US. In fact, B was the average size since the invention of different cup sizes.
The first bras in cup sizes were only available in large, medium and small, which later transitioned to A-C. This, therefore, meant that women wearing B cup neither had smaller or bigger breasts.
However, technology and advancement has seen many changes in the lingerie department since the invention of cup sized bras.
So, do B cup breasts fall on the smaller or bigger side?
The answer to this question is not as straightforward as you want to imagine. The size of a B cup bra typically depends on the bra's band size.
Let's get into the details.
Wearing a B cup bra size technically means that there's a two-inch difference between the ribcage and the fuller part of your breasts. If the result of the underbust and overbust is an inch, then that should be an A cup, and three inches would be a C cup.
It's only fair to say that the size of B cup breasts is relative in relation to the bra's band size. For instance, a woman wearing 32B has smaller breasts than her counterpart with size 38B owing to the difference in width as much as their prominence is of equal distance.
Therefore, the main difference in cup sizes is usually more of the breast shape as opposed to their size. In other words, the cup size is determined by how prominent the bust is and not the breast tissues in there. This is to say, the amount of breast tissues in B cup breasts could be similar to those wearing other cup sizes. The theory explains the existence of sister sizes.
The actual B cup breast is that of a woman who wears bra size 34B. There's only one bra brand selling this idea, so don't take it seriously. In the long run, all cup sizes with a B in it are practically B cup breasts, especially when it comes to bra shopping.
What B Cup Breasts Look Like
As earlier mentioned, B cup breasts are characterized by different sizes and the only way to find out how they typically look like is by checking the band sizes.
In the pictures below, you realize the prominence of the breasts is almost similar in all cases but as we go up the band size the breasts equally increase in size.
[su_table responsive="yes"]
| | |
| --- | --- |
| 28B Breasts in The Little Bra Company Catherine Lace Bra | 30B Breasts in Lepel Fiore Plunge Bra |
| 32B Breasts in Natori Feathers Contour Plunge Bra | 34B Breasts in Victoria's Secret Bip Fit Uplift Demi Bra |
| 44B Breasts in Goddess Kayla Soft Cup Bra | 46B Breasts in Torrid Smooth Push Up Plunge Bra |
[/su_table]
B Cup Breasts Comparisons and Different Sizes
Just like other cup sizes, a B cup is common just as much. That's why it features on different band sizes including 50B, 48B, 46B, 44B, 42B, 40B, 38B, 36B, 34B, 32B, 30B, 28B and 26B. That's how the bra measures from the largest to the smallest available in the market.
B Cup Breasts Weight
The weight of B cup breasts varies since those with larger band sizes tend to weigh more than their smaller counterparts. According to research, the weight of B cup breasts is almost similar to:
15 pancakes
11,000 bees
23 sushi rolls
2 hamsters
5 cockatiels
A pair of heels
Technically, a B cup breast weighs about 560g or more with bigger band sizes. When it comes to sister sizing, the weight of 30B is similar to that of cup sizes 28C and 30A.
As per our chart:
30B breast size weighs 227g
32B weighs 272g
34B weighs 318g
36B weighs 408g
38B weighs 544g
40B weighs 680g
42B weighs 771g
44B weighs 907g
Therefore, 30B breast size won't strain the muscles while 44B can be compared to strapping the chest with two kilos of sugar. As you can see, it's not just women who wear bigger cup sizes that have heavy breasts.
B Cup Implants Size
This question is quite tricky as there is nothing like B Cup implants in the first place. Breast implants are usually measured in cubic centimeters (cc) and classified in different sizes according to their volume ranging from 80cc to 1200cc.
Larger Breasts Require More Volume to Increase the Cup Size
From the chart above, notice the increase in weight is not entirely proportional. For instance, the difference in weight between 30B and 32B breast sizes is an addition of 0.1lb only while that of 42B to 44B is 0.3lb.
Bigger band size breasts are a little wider hence require implants that measure up to their width with a higher volume and more weight. The breast implants width usually varies, ranging from 7.4cm up to 17.2cm. Therefore, it's almost impossible to get an implant size to increase your cup size by an exact inch.
Bra Sizes are Different
Bra sizes differ from one brand to the other, making their fit equally different. For instance, 32B can have a perfect fit in 32C or even 32A depending on the bra's brand. Therefore, this means that going for cosmetic surgery doesn't guarantee achieving an ideal B cup size because different brands have different sizing charts.
However, this doesn't necessarily mean that you can't get implants in cup size B. The surgeon will be in the right position to help and give you an accurate answer depending on the shape and size of your breasts.
If surgery is not an option, you can use gel inserts for breast enhancement and cleavage. This also gives you an idea of how exactly your breasts will look like and weigh after the surgical procedure.
Best B Cup Bras
B cup bras are some of the most popular cup sizes and usually come in a wide range of designs, colors, patterns and brands, save for those that specialize in full figure sizing.
Let's look at some of the best B Cup Bras in the market:
1. Natori Feathers Bra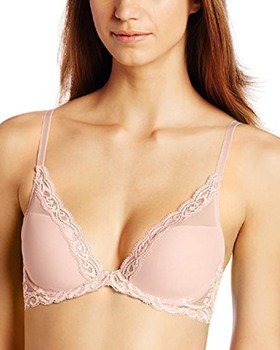 AVAILABLE ON AMAZON
2. Maidenform Comfort Devotion Push Up Bra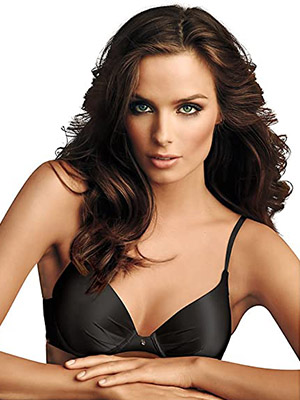 AVAILABLE ON AMAZON
3. Victoria's Secret Bombshell Push Up Bra
Victoria's Secret Bombshell Push Up Bra
AVAILABLE ON VICTORIASSECRET
4. Wonderbra Full Effect Push Up Bra
AVAILABLE ON AMAZON
5. Wacoal Hallo Strapless Bra
AVAILABLE ON WACOAL-AMERICA
6. Triumph Body Make-Up Essential Strapless Bra
AVAILABLE ON AMAZON
7. Calvin Klein Memory Touch T-shirt Bra
AVAILABLE ON AMAZON
8. Simone Perele Caresse 3D Plunge Bra
AVAILABLE ON AMAZON
9. Wacoal Beauty Contour T-shirt Bra
AVAILABLE ON WACOAL-AMERICA
Conclusion
Women with B Cup breasts are quite fortunate since this category carries a wide range of bra options, from strapless, demi, to plunge designs. Moreover, the bras are easily available since the manufacturing process is easier compared to that of bras of other sizes. As a result, producing B cup bras in bulk is effortless and convenient.
You'll find B cup bras in all price ranges.
However, when shopping for B cup bras, always bare in mind that the sizing differs. For instance, 36B is roomier than cup size 32B. This is why you need to be conversant with both the cup and band size measurements.