Looking for the best bra for hiatal hernia? Wondering what is the best bra for acid reflux? In this guide, we explore five options that are comfortable and will help you to avoid pain.
Acid reflux can be very disruptive, especially when you are waking up or going to sleep. If you have experienced acid reflux, you know how it feels.
You may also be wondering whether there is a connection between  GERD (Gastroesophageal reflux disease) and the bra you usually wear every day. If this is the case, then you'll want to try one of the acid reflux bras we've recommended below.
The Connection Between Heartburn and a Tight Bra
To determine whether you need a special bra for acid reflux, consider the bra that you wear every day. Do you usually wear tight bras? If so, then they are most likely the cause of your problems.
With a proper bra fitting, you will not only get the bra that shapes your breasts nicely but also of the right size. Wearing a properly fitting bra helps to improve your health. Studies have shown that wearing the wrong bra size can lead to breast-related health issues.
There are no benefits of wearing a tight bra. Therefore, get a well-fitting bra that provides enough support.
What is a Hiatal Hernia Bra?
Have you been diagnosed with a hiatal hernia? If so, then you should research well to find the right bra for yourself. Consider the health issue you have before choosing a bra.
To find the best bra for hiatal hernia, you need expert advice and knowledge about the condition. Here is an excellent explanation about the condition:
Choosing the Right Bra for Hiatal Hernia
The best hiatal hernia bra should meet the following:
i) No underwire
This is one of the main features you should consider when searching for a bra.
An underwire can cut into your tissues with acid flux and worsen your hiatal hernia. A bra without an underwire will help to prevent pain.
ii) Soft cups
The cups should be smooth so that they don't apply too much pressure on the area around your hernia.
iii) Sizing
When you have hiatal hernia, you may have to change your bra size. You may have to experiment with different sizes until you can find the perfect one.
The bra should not irritate you when you wear it. If your standard size soft cup bra doesn't feel comfortable, change the size to one that fits loosely.
iv) Low Impact Sports Bra
A low impact sports bra provides support without squeezing the body a lot. This is one of the best bras for hiatal hernia.
Best Bra for Hiatal Hernia & Acid Reflux
You now know about acid reflux and hiatal hernia and how to choose the right bra if you have either of the conditions. With this knowledge, here are the best bras to go for.
#1.  Roza Newia Soft Cup Bra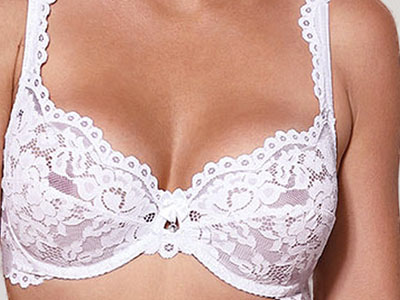 The Roza Newia Soft Cup Bra is made from a blend of  Nylon (90%) and Spandex (10%).  The bra is soft, stretchy, and the material will protect you against UV rays.
The soft cup bra provides adequate support and comes in four different colors (white, red, black, and ivory). This well-stitched bra is excellent for everyday wear. The bra has no underwire for your comfort.
#2.  Playtex Women's 18-Hour Seamless Smoothing Bra
Available on Amazon | HerRoom | BareNecessities
The Playtex Seamless bra is loose and, therefore, will not worsen your heartburns. The seamless bra is comfortable and supportive. This bra comes with two two-ply soft cups and has cushioned non-slip straps to keep you comfortable all day long.
The bra for acid reflux is not padded but has a double layer fabric for additional comfort.  The bra is machine-washable and will be a great addition to your wardrobe.
#3.  Just My Size Women's Active Lifestyle Wire-Free Bra
The Just My Size bra features soft, two-ply cups that are comfortable and support the breasts. If you work in environments where you sweat a lot, the bra will be perfect thanks to its coolDri lining that wicks moisture. As a result, you won't feel smelly or sticky.
The bra is made from soft and stretchy cotton and has a back closure. The fabric feels comfortable to wear all day long.
However, check for the right size to avoid buying a bra that is too tight.
#4.  Hanes Women's Ultimate Comfy Support Wire-Free Bra
Hanes is one of the best lingerie brands for plus size. The Hanes Comfy bra is one of brand's bras for acid reflux. The bra is also suitable for wearing with hiatal hernia since it is comfortable and provides enough support.
The bra's design is a classic style with a back closure. This seamless bra has comfortable straps and provides a great experience. This is the best bra for hiatal hernia.
#5.  Under Armor Women's Seamless Essential Bra
The Under Armor bra is one option you have if your prefer a push-up bra for acid reflux. This is a low-impact bra and, therefore, does not squeeze your body tight.
The bra offers enough support to the breasts and will keep you feeling fresh, thanks to its Signature Moisture Transport System.
#6.  Fruit of the Loom Women's Cotton Pullover Sports Bra
The Fruit of the Loom sports bra is an excellent choice for women with GERD or hiatal hernia. The bra is made of 5% spandex and 95% cotton.
The cotton is soft, reasonably stretchy, provides enough support, and is comfortable. The bra does not squeeze your body. Therefore, you won't feel any pain. The band at the bottom of the bra keeps the breasts supported and in a good position. Moreover, it does not make you feel tight.
The bra is cheap and comes in many colors that you can choose from.
Which is the Best Bra for Acid Reflux?
The above are the best bras for hiatal hernia and acid reflux. The bras come in different sizes, are supportive, and comfortable to wear all day long.
What You Should Buy
If you are suffering from hiatal hernia, you need a bra that is super comfortable, flexible and with no underwires. From our tests, the
Roza Newia Soft Cup Bra
 is a great option. The bra is made from breathable materials and comes in different colors, which is a bonus.
If you prefer another brand, we recommend you go for the Playtex Smoothing Full Coverage Bra. These non padded bras have no underwires but yet are so supportive and comfortable.