You've probably bought a sports bra and have found it to be to constricting. And now you are wondering, are sports bras supposed to be tight? Read on to find out.
An ill-fitting sports bra is quite uncomfortable and unhelpful. If the bra doesn't fit you will, you may feel pain as a result of bounce when engaging in high-impact exercises.
A good sports bra should neither be too loose or too tight.
Sports bras are typically the go-to bras for almost everything, from lounging to workouts. The bras keep the breasts well supported to reduce bounce and ensure you are super comfortable.
Are Sports Bras Supposed to Be Tight?
A sports bra should fit snugly but not too tight. However, it should fit tighter than a regular bra. Still, you shouldn't  size down for the bra to fit well.

Finding the right size sports bra can be  quite tricky. You might need to try on different brands and sizes to get a perfect fit. Here's what to look for in a sports bra in terms of fit:
Check the Band Size
Sports bras are not supposed to be tight. If the band tends to ride up the back, it's not providing enough breast support since its too loose. Go down a band size if this is the case. If it digs into the skin, you need to go up a size as the band is probably too tight.
Go for sports bras with wider bands as they tend to provide more support ideal for women with larger breasts.
Learn how to measure the bra band size.
Check the Cup Size
Match the band and the cup fit to get the right size. The bra cup is too large if it leaves some space inside, and too small if your breasts tend to spill from the top or on the sides. The right cup size should fully contain the breasts with no gaping or overflow.
BUY ON AMAZON
Scoop your breasts and center them in the cups. A good fit should allow you to fit two fingers between the band and your body.
If your breasts spill from the sides, the bra cups are too small or you are wearing the wrong bra style. For ultimate support, the breasts should be fully covered.
The fabric on the cups is also supposed to be smooth. The fabric is likely too big if you spot wrinkles.
Learn how to measure your bra size.
Check the Underwire
The underwire should lie flat against the chest and not on the breast tissue. It shouldn't dig into the skin as well. Also, look out for hoop and loop closures for a more customized fit and great support.
BUY ON AMAZON
Check the Straps
The straps should be a bit stretchy for bounce control, comfortable and secure on the shoulders. You should also be able to effortlessly fit at least two fingers underneath. The straps are too tight if they dig into the shoulders and too loose if they keep slipping off or your breasts bounce too much.
Go for sports bras with adjustable straps for a more relaxed fit and additional support. Wider straps help distribute breast weight offering greater comfort compared to narrower ones. Generally, thinner straps are quite easy to conceal but tend to provide little support.
Check the Support
Finally, test the support level of your sports bra by running, jumping in place and lifting your hands over the head. The breasts should be well supported and feel comfortable.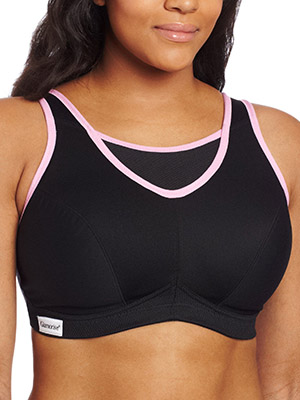 BUY ON AMAZON
Look for a bra with a better fit if your breasts are not contained in the cups or they keep moving up and down or sideways.