5 Best Bras Made in the USA
Looking for the best bras made in the USA? If you are a patriot and love supporting local manufacturers, check out the five bras below that are 100% American brands.
Over the years, our team has been looking for the best bras made in USA. Finally, after scouring the internet and trying on a few bras here and there, we have come up with a list! It includes bralettes, luxury bras, maternity bras, sports bras and organic bras among others. All these bras are made in America!
Finding the best bras made in USA is a near miracle especially if you like shopping directly from physical stores. When it comes to bras, we all want the right style, fabric and perfect fit. What better way to achieve all these than trying on a couple of bras? This way, when you find a brand that fits pretty well, you can get it in different colors. The only downside is that you might have to replace all your bras at the same time!
Shopping for Bras Online
Most of us are usually afraid of online purchases due to fit issues. It's almost impossible to get a bra with a perfect fit when you are in the stores, how is shopping online supposed to be easy? Plus, the process can be tiring especially if you are not conversant with bra sizes.
The recent pandemic didn't make things any easier in the fitting rooms. Perhaps this is the right time to shift your focus to online bra shopping.
Instead of making a one-time purchase of foreign bras, you can spread out the purchases and invest in top-quality bras made in USA. When shopping online, it's always important to check the details of the product to ascertain its origin.
Best Bras Made in the USA
Here's our list of some of the best bras made in USA;
AVAILABLE ON AMAZON
AdoriWear Bra features a convenient front hook and eye closure that makes wearing and taking it off quite easy ideal for women with limited dexterity. The wide straps securely stay in place without digging into the shoulders for enhanced comfort and support.
The elastic bottom band keeps the breasts well supported. The t-back design helps improve posture and support by equally distributing weight towards the center.
AVAILABLE ON ARAKS
This bralette is made from organic and recycled cotton jersey fabric that is lightweight, breathable and feels soft against the skin. It features adjustable straps and hook and eye back closure that provide a more customized fit.
The bra is well made and structured to provide adequate breast support without compromising on comfort.
AVAILABLE ON BGREEN
This is one of the best bras made in USA. Athletic bra is made of cotton/spandex blend fabric. The four-way stretch fabric is lightweight, breathable and provides a flexible fit ideal for different breast sizes.
The elastic underbust band provides ultimate breast support while the adjustable straps allow you to customize fit. The bra comes in a range of sizes ranging from small to extra large in black, gravel and nude.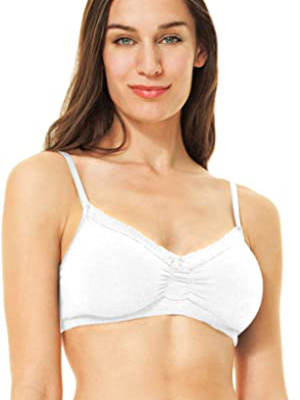 AVAILABLE ON AMAZON
Blue Canoe Bamboo Lace Bra made in the USA and comes with soft cup inserts for added comfort and coverage. It features adjustable convertible straps that you can wear in different styles for wardrobe versatility and elastic bottom band for superior breast support.  It's true to size and has a perfect fit.
AVAILABLE ON AMAZON
Kurve O Ring Racerback Sports Bra is made of nylon/spandex bland fabric. It's uniquely designed to provide maximum comfort and protection during different activities. It features a lightweight UV protective fabric ideal for women who like spending time outdoors.
The four-way stretch fabric feels soft against the skin and provides a full range of motion. The racerback design provides additional support and security.
The above are the best bras made in the USA.