Cut and Sew Bras: Elomi's Solution For Sagging Breasts
What are cut and sew bras and who should wear them? This article reveals everything you should know, including the best cut and sew bra on the market.
When looking for a bra for breasts that sag, you can forgo what's on sale and ignore the look. Instead, go for bras specifically made to cater to sagging breasts. Ideally, you want bras that offer plenty of support. Among the bras you should choose are cut and sew bras.
Cut and sew bras are an ideal alternative for women with sagging breasts since they come in dozens of different styles. For example, you can get cut and sew plunge bras, balcony bras, and other options.
How to Identify Cut and Sew Bras
How can you know whether a bra is a cut and sew option? The bra's cups should be made of fabric strips that have been cut and sewn jointly.
You can get a cut and sew bra with only one seam (two fabric strips in each cup). However, there are others that have up to three seams.
After I got my proper measurements from a professional bra fitter, I bought a Freya Rio bra, which is a perfect example of a cut and sew bra.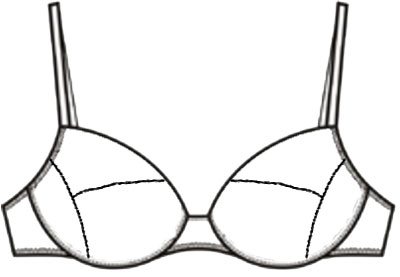 For maximum support, go for the cut and sew bra with a T-shape seam. The seam should lay horizontally across the middle of the cup to meet the vertical seam, which splits the cup's underside into two.
Why Wear Cut and Sew Bras?
Cut and sew bras are perfect because they contain multiple pieces of fabric. Moreover, unlike other types of bras, they can easily conform to the shape of your breasts. Therefore, you won't have a space between your chest and the bra. If you've ever worn a thick t-shirt bra with padding, you know the awkwardness we are talking about here.
What's more, it's made using fabric, not foam. You will find it easy to get options when there's no additional bulk to the breasts.
Best Cut and Sew Bra: Elomi Caitlyn Underwire Side Support Bra
Arguably, the best cut and sew bra is the Elomi Caitlyn Underwire Side Support Bra. The bra has been on the market for some time now and still performs solidly. This is one of the best bras for women with large breasts.
Strap
This bra's straps are made of leotard, which makes it airy, soft, and comfy. The straps stay in position and don't fall off the shoulders. However, they can sometimes slip off if they haven't been properly, usually depending on their length.
The Gore and Cup
The cup's top features a sheer panel that allows smooth flow of air. While this design is incredible and practical, the pattern on the sheer part can be visible through some outfits.
When it comes to support, the Elomi Caitlyn should be your go-to bra. The bra's inner slings and underwire provide a perfect lift that any girl would need.
Elomi's gores tend to stick out quite quickly, especially if you wear one that doesn't fit right. Check the conversion chart below to find the appropriate fit that would work for you.
Elomi International Size Chart
Band and Sizing
The band of the bra is made from a leotard breathable fabric and has 2 to 3 hooks. While its design is solely not smoothing, the band does ease a little. However, I feel that the band would be stronger if they used a different material.
The bra offers plenty of support on the sides since it has side panels that come up high, and the underwire is reasonably broad. Therefore, your breasts will not spread flat. Instead, they get pushed forward, creating that slimming effect.
Underwire
We are not going to beat around the bush on this one. The underwires of the Elomi Caitlyn bra run wide.
Just like other features of a bra, what works for one person may not necessarily work for you. If you are petite, you may feel that the underwire is going for the armpits. Other women might feel it going to the back.
The other side of this course is, you wouldn't feel like the cups are small, or the underwire digs into the breasts.
Feel
The bra feels entirely supportive and is well made, thanks to the full-coverage and stable structure of the cup's undersides. I could comfortably run for the bus wearing this bra. It provides the perfect lift, and the breasts stay in the cups.
Overall Shape
Since the bra has seams, it can show through some outfits. However, almost all cut and sew bras have a similar problem.
The bra works well to define and separate the breasts. However, keep in mind that this can make you feel a bit pointy.
Ideal For
Cut and sew bras are ideal for wearing with necklines with a high cut. You can wear the bra to work and throughout the day.
The Elomi Caitlyn side support bra might not be the sexiest bra out there. However, it comes in exciting colors. When you find an ideal combination of support and lift, it will help to define your waist well and provide that slimming effect you desire.